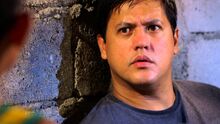 Macario Sr. serves as an Anti Antagonist from the Television Series direct to videos Shows of Ang Probinsyano who is late Father of Makmak. He is also a debated Rival and Anti Heroic Counterpart of Cardo Dalisay after He arrests Him against His Deeds.
Real Name: No Informations
Aliases: Macario Sr.
Origins: Ang Probinsyano
Birthday: January 21
Age: 57 Years old
Gender: Male
Species: Human
Height: 5'11 Feet tall
Hair Color: Black
Eyes Color: Brown
Skin Color: Light Tan
Hobbies: Drinking Beers
Attacking People (Hot Headed)
Goals: Collects Anton (Fails)
Martial Fates: Unknown
Status: Physically Deceased+
Deaths Causes: Shot by Anton
Role Ends: Presumed killed by Anton
Families: Makmak (His Son, Physically Deceased+)
Friends: Marcelo (Physically Deceased+)
Ricardo Dalisay (Now Ally)
Francisco Rivera (Physically Deceased+)
Rowena (Physically Deceased+)
Gigi (Physically Deceased+)
Diana Olegario (Former Commanding Officer)
Enemies: Joaquin Tuazon+
Diego Sahagun (Physically Deceased+)
Mr. Philip Tang (Physically Deceased+)
Migz+
Appearance
[
]
Macario has Straight Body with Black Hair and Eyes with Grey Shirt, Denim Pants and Shoes. After Cardo Dalisay finishes Him, He wears an Orange T Shirt, Black Pants and Shoes during His Redemption.
External Links
[
]