Ellen Padua is the supporting antagonist of Lolo Delfin's in FPJ's Ang Probinsyano. She is Arturo's ex-wife, Maggie's mother & Clarice and Jimbo's stepmother. On July 22, 2021, she will tries to catched mariano failed to it and vows to revenge on Cassandra, Oscar, Ambo and Renato in the Bedroom, Because of Cassandra cheated on Mariano in the Bed Party. On August 2021 she was kicked out from the Padua residence by Arturo. On December 2021, she was no longer lover with Mariano and her crew, she is betrayed and swears revenge on the fake president.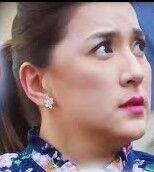 Character Information
Alias (es)
Ling
Madam Ellen
BALIW ASONG BABAE KA! (By Mariano)
IKAW SIYAS-SUMPAIN ASONG BABAE! (By Mariano)
Birthday
September 12, 1972
Height
5 ft 3 in (160 cm)
Debut
First Appearance
December 2019 (season 7)
Role
Supporting Villain
Bitches
Personality
[
]
A loud and manipulative woman. Her reasons for entering the palace are left unexplained, but she boasts that she was charged five times for fraud, which implies that she is a con woman.
Trivia
[
]
Ellen is Mi-nyeo as take to Betrays Mariano is Deok-su on December 2021 in Squid Game Counterpart.
See Also
[
]
External Links
[
]