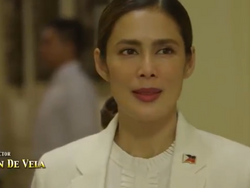 Diana Olegario-Dumaguit is the Female heroic antagonist to turn main protagonist from Ang Probinsyano who is the friend of Delfin Borja and Oscar Hidalgo. Her friend are James and Erwin Salonga, and Renato Hipolito's sometimes to have an Anti Hero in His series.
She makes her debut as an anti Heroine in Her franchises, Her only son Joel Olegario dies by Homer Adlawan that He murders her husband, Romulo Dumaguit. She is portrayed by the Filipino voice actress, Angel Aguino.
and was turned remaining protagonist.
Real Name: Diana T. Olegario-Dumaguit
Aliases: Diana
Origins: Botalan, Zombales
Birthday: November 11, 1973
Age: 46 Years old
Gender: Female
Height: 5 ft 8 in (172 cm)
Hair Color: Brown
Eyes Color: Light Brown
Skin Color: Caucasian
Martial Fates: Philippine Army and Secretary
Status: Alive
Portrayers: Angel Aquino
Debut: May 25 2017 Book 2 Season 3
Role Ends: Ongoing
Relatives: Joel Olegario+ (Son, Deceased)
Allies: Ricardo "Cardo" Dalisay
Romulo Dumaguit+ (husband, widowed)
Lola Flora Dalisay
Enemies: Meilin Yang+
Alignment Chart: Chaotic Good
Type of Anti Hero: Redeemed Seductress
Community content is available under
CC-BY-SA
unless otherwise noted.