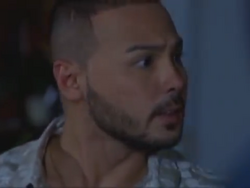 Brad is the supporting Antagonist of the episode 65 from Ang Probinsyano who associates Leonardo Demetrio/Conrado "Ninong" Villegas. He was later shot by Cardo after attempting to Shoot back Cardo.
Real Name: Unknown
Aliases: Brad
Birthday: Unknown
Age: Unknown
Gender: Male
Height: Unknown
Weight: Unknown
Hair Color: Caucasian
Eyes Color: Brown
Skin Color: Caucasian
Goals: Takes down Cardo (Fails)
Martial Fates: Killed in Action
Status: Deceased+
Deaths Causes: Shots by Cardo Dalisay
Portrayers: Polo Ravales
Debut: December 28, 2015 Book Season 1
Role Ends: January 4, 2016 Book 1 Season 1
Community content is available under
CC-BY-SA
unless otherwise noted.