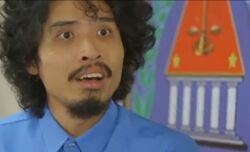 Benny Dimaapi serves as the Fictional protagonist from Ang probinsyano who is Cardo's BFF, He tries to retreats after Greg shoots His back who He saves Cardo's tragedy.
He is Portrayed by the Filipino Voice actor, Pepe Herrera, who is known as Iking from The Killer Bride.
Real Name: Benjamin Dimaapi
Alias: Benny
Benjamin
Origins: Philippines
Birthday: August 23
Age: 33 Years Old
Gender: Male
Height: 5'10 Feet Tall
Weight: Skinny
Hair Color: Black
Eyes Color: Black
Skin Color: Tan
Goals: Saves Cardo dalisay (Suceeds but died)
Martial Fates: Unknown
Status: Physically Deceased+
Deaths Causes: Shoots his Back by Greg
Portrayers: Pepe Herrera
Debut: October Season 1 Book 1 2015
Role Ends: January Season 2 Book 1 2017
Allies: Ricardo Dalisay
Francisco Rivera (Physically Deceased)
Romulo Dumaguit (Physically Deceased)
Anton Tigre Del Mundo (Physically Deceased)
Enemies: Joaquin Tuazon+
Greg+
Mayor Anton Guerrero (Imprisoned)
Hector Mercurio (Imprisoned)
Ombudsman Castillo (Imprisoned)
Gina Magtanggol (Physically Deceased)
Bartolome Bulaan (Physically Deceased)
Mariano
Alignment Chart: Chaotic Good
Type of Hero: Weakling Sidekick
Synopsis
[
]
He is presumed killed by Greg..........
External Links
[
]
Videos
[
]