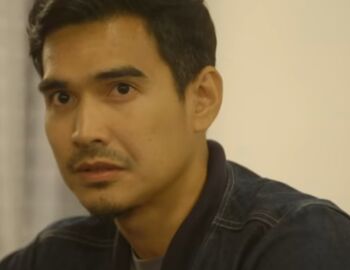 Character Information
Weapons
Pistols:
Submachine Guns:
Assault rifles:
Sniper rifles:
Equiptment
Knife, Flashbang Grenade, M26 Grenade, Smoke Grenade, C4 Explosive, Claymore, Gas Mask, Night Vision Goggles, AN/PEQ-2A, Throwing Knife
Weapon attachments
M203, Grenade Launcher, Grip, ACOG Scope, Thermal Scope, Extended Mags, FMJ, Rapid Fire, Supressor
Debut
First Appearance
Hobby
Outrightful Patriot
Personal Info
Hobby
Outrightful Patriot
Avel M. Guzman or simply known as Billy Guzman, is a Tritagonist from FPJ's Ang Probinsyano, who is the part of Vendetta and Task Force Agila He was portrayed by John Medina.
History
[
]
Season 8
[
]
He was met by Mr. Reyes, and was upset because Avel arrested his brother for drugs, Lito's bodyguards saw that they were Salvador and at that time they told Lito that someone knew Cardo's friends or ally, Lito defended them to Mr. Reyes and settled it. Lito later brought Mr. Reyes in a swimming pool and talked to him, and after that Lito killed Mr. Reyes to cover them Avel. The reason he did it was because it was for Alyana so that he was not far from Lito, And no one yet knew Cardo what happened to Mr. Reyes that Lito killed it.
Anti-Villain
[
]
Enemies: Mr. Reyes+ ✝️ (arch nemesis)
Tomas Tuazon+✝️
Lily+
Hector Mercurio (Jail)
Mayor Anton Guerrero (Physically Deceased+)✝️
Gina Magtanggol (Physically Deceased+)
Bartolome Bulaan (Physically Deceased+)
Trivia
[
]
1. He is portrayed by John Medina and also one of Coco Martin's former Co star in "Walang Hanggan" who portrayed by James Ocampo.
External links
[
]