Line 1:
Line 1:
−

'''FPJ's Ang Probinsyano '''(English: FPJ's The Provincial Man/Brothers) is a 2015 Philippine television action-drama series premiered on ABS-CBN's ''Primetime Bida ''that hit on the country's second to the longest airing drama of all time. It is top-billed by Coco Martin and with his ensemble casts. OI May 2019, the series was released on Netflix with 50 episodes in the first season. As of August 8, 2019, the series has reached its 1000th episodes that ran for four years since September 28 of 2015. the series ended in March 13,2020 due to coronavirus disease (COVID-19) pandemic as well as the expiration of the contract of the television network,ABS-CBN which is expected to expire its franchise on May 4, 2020.

+

'''FPJ's Ang Probinsyano '''(English: FPJ's The Provincial Man/Brothers) is a 2015 Philippine television action-drama series premiered on ABS-CBN's ''Primetime Bida ''that hit on the country's second to the longest airing drama of all time. It is top-billed by Coco Martin and with his ensemble casts. OI May 2019, the series was released on Netflix with 50 episodes in the first season. As of August 8, 2019, the series has reached its 1000th episodes that ran for four years since September 28 2015. due to coronavirus disease (COVID-19) pandemic as well as the expiration of the contract of the television network,ABS-CBN which is expected to expire its franchise on May 4, 2020.

 

<gallery widths="155" position=center" spacing="small" columns="3" captioalign="center" hideaddbutton="true" navigation="true">

 

<gallery widths="155" position=center" spacing="small" columns="3" captioalign="center" hideaddbutton="true" navigation="true">

 
 
---
Revision as of 04:29, 24 April 2020
FPJ's Ang Probinsyano (English: FPJ's The Provincial Man/Brothers) is a 2015 Philippine television action-drama series premiered on ABS-CBN's Primetime Bida that hit on the country's second to the longest airing drama of all time. It is top-billed by Coco Martin and with his ensemble casts. OI May 2019, the series was released on Netflix with 50 episodes in the first season. As of August 8, 2019, the series has reached its 1000th episodes that ran for four years since September 28, 2015. due to coronavirus disease (COVID-19) pandemic as well as the expiration of the contract of the television network,ABS-CBN which is expected to expire its franchise on May 4, 2020. <gallery mode="fandom-legacy" widths="155" position=center" spacing="small" columns="3" captioalign="center" hideaddbutton="true" navigation="true">
Season 1
The first season of the series tackles Ador's death, Cardo's life and the various crime cases happened in the country and in the regions. It ran about 262 episodes prior to the second chapter of the series. There were numerous crime cases reported by the series such as human and drug trafficking, murder, robbery and sexual indications implied from the other theme, but obviously censored from being banned.
Season 2
The second season talks about the conviction of Cardo and avenging his brother, Ador, seeking justice and for his brother's wife Carmen. It is the apparent time of Tomas' death before Cardo's trial, and the resolution of Joaquin's role as a second to the main villain of the series, after marriage to Alyanna and Cardo at night.
Ramil Taduran was a bigtime syndicate inside the Bilibid prison while Tomas plots to know him personally to steal his throne.
Season 3
Cardo's return as a PNP-SAF trooper of the department. This leads to the direction that tackles the existence of Terrorists and Rebellions roughly hitting the city's security and a continuous bombardment during his encounter with the supposedly known vigilante group known as the Pulang Araw (Red Sun, in English).
Season 4
Cardo joins Pulang Araw and the resolution of the Rebellion and Terrorism Arc which the other traitors of the vigilante are orchestrating behind the troubles that would tarnish the name Pulang Araw. The remaining good members realized the real situation of the group and the incident from Mateo de Silva and Don Emilio's operation for drugs, weapons and corruption. This would catapult Mateo from Senator to President.
They later move to Manila with the help of Engelbert "Bert" Moreno alias "Daga" (Rico J. Puno) (transl. Rat), a former Pulang Araw member and his family. Bert's daughter, Regine (Angeline Quinto) resents Cardo as she recognized the latter as the CIDG officer who killed her brother Banjo (Eric Fructuoso).
At this point, Senator de Silva is revealed as a drug dealer who drew funding from Don Emilio in exchange for securing the reversal of the latter's conviction and a stake in de Silva's drug empire. De Silva subsequently joins the hunt for Pulang Araw to catch up to Hipolito in the ratings, both eyeing the top spot to secure the nomination for the Presidency of the Philippines. Bert is later killed by Sen. de Silva's henchmen after the latter refused to reveal Pulang Araw's whereabouts. His family is rescued by Pulang Araw, and finally discovers Senator de Silva's involvement in the assault on Bert's family. Regine and her brother Bruno (Janno Gibbs) moves in with Pulang Araw.
After visiting his dead son's grave, Don Emilio and his henchmen kidnap and torture Cardo in an isolated island called Isla Muerte (transl. Death Island). Ramil and some of Cardo's inmate friends learn of Cardo's predicament and devise a plan to rescue him. They caused a distraction in the bilibid prison so they can escape. Arriving at the island, they successfully rescued Cardo but two companions, Julian (Julio Diaz) and Gener (Jeric Raval) are killed; Julian was fatally shot by de Silva's men while Gener sacrificed himself to give Cardo, Jimboy, and Ramil time by detonating the bombs they planted in the island. In the ensuing gunfight, Cardo shoots and kills BuCor Director Ladronio (King Gutierrez), one of the persons who helped Don Emilio torture him.
With the remnants of Cardo's allies from prison and the surviving members of Pulang Araw, Cardo forms the vigilante group Vendetta.
Vendetta started their plan to annihilate Don Emilio's and Sen. de Silva's drug laboratories. They successfully ended the operations of two drug laboratories, leaving no one alive. However, Bruno was then captured by two policemen, Gapuz (Raph Fernandez) and Pantig (Pocholo Barretto), who were corrupt, and Vendetta were not successful in rescuing him, leading to his death. His mother, Dulce (Irma Adlawan), blames Vendetta for his death and she, along with Regine, decided to move to their province for their safety.
Vendetta found a new enemy in Mayor Jethro Garrido (Bernard Palanca), who sells drugs to college students, some of which also selling drugs from him. Mayor Garrido set up a concert motivating students to stop taking drugs. Vendetta found about the planned concert, so Cardo orchestrated a plan for them to get in. They disguised as a band participating in the concert, named Vengaboys. They won in the battle of the bands, and were congratulated by Mayor Garrido. Unbeknownst to him, they are a vigilante group who plan on taking him down. After handing them drugs, Cardo confronted Mayor Garrido, provoking a shootout. Cardo later shot Mayor Garrido to death.
However, after successfully taking down the drug operations, Cardo realized his shortcomings to his wife. He wasn't aware that Alyana was almost kidnapped by Emilio and de Silva's men at her office. When Alyana was about to be kidnapped, her office boss, Marco Cabrera (J. C. Santos), came just in time to save her from the kidnappers. Alyana then broke up with Cardo after she blamed him for not being able to rescue her. However, Cardo is still determined to fix his marriage with Alyana.
General Diana Olegario (Angel Aquino) wanted to talk to Cardo so she and Cardo planned to meet at the bridge. Unbeknownst to her, Major Catindig found out about the plan but was not aware that it was Cardo. In the bridge, when Diana was looking for Cardo, Manolo and his men found her first and cornered her. They successfully shot Diana, but she managed to escape by jumping to the river below. Cardo, who was hiding in his vehicle, then saved Diana and brought her to Vendetta's hideout.
After General Olegario was well rested, she wanted to go back to the NMIG. As she came back to her house, Diana was ambushed by Cantindig's men. Vendetta followed her beforehand and came to rescue her. When they took her back to their base, she decided to join Vendetta, seeing an opportunity to get justice for her son.
Vendetta finally puts a stop to Don Emilio and Sen. De Silva's operations after they foiled the terror plot that Don Emilio, De Silva, and Buwaya's plan to detonate bombs during Panagbenga Festival, killing De Silva and also "killing" Don Emilio. After the diversion was taken care of, they set their sights next on Director Hipolito and Kamandag. Meanwhile, Alyana gives in to Marco's advances and starts a relationship with him, much to the chagrin of the latter's aunt, Menchu Versoza (Matet De Leon).
Season 5
Fifth season revolves Political Arc that made appearance to some known political positions such as President, Vice-President, Secretaries, Mayors, Barangay Captains and Councilors which had some corruptive powers to malign the name of the Dalisays and the Vendetta. It also talks about the fixing marriage between Cardo and Alyanna, on the other hand of Marco, the son of a bad Vice-President Lucas, is being a third-party of the complicated couple.
Marco formally introduces Alyana to the rest of the Cabrera Family. Marco's half-brother, Congressman Brandon Cabrera is supportive of the pair's relationship. On the other hand, the Vice President of the Philippines, Lucas Cabrera, is concerned about how his son's relationship with Alyana will adversely affect his bid for the Presidency in the next election. His spouse, Second Lady Catherine Cabrera, feigns acceptance of Alyana, if only to stop Marco from throwing a fit. Cardo continues to woo Alyana, but is finally rebuked when Alyana returns her wedding ring to Cardo.
General Olegario sought the help of General Borja, despite the objections of Romulo, Ramil and Cardo. Unbeknownst to General Olegario, her secretary, James Cordero, was tailed by Major Catindig. Catindig then informs Director Hipolito, who in turn, orders Alakdan to perform a hit on Vendetta. Vendetta survived the attack on their hideout but at the cost of both Kalabaw and Jimboy who sacrificed themselves to make their escape. During the attack, Director Hipolito arrived to personally take down Romulo, seeing an opportunity to raise his profile again. However, Romulo survives his wounds and is immediately brought by the CIDG in a hospital where he laid in critical condition. However, Hipolito manages to wrest control of the supervision of Romulo from CIDG and Vendetta must race against time in order to extract Romulo from the clutches of Director Hipolito. Meanwhile, when Alyana decided to visit Lola Flora and her family, Marco is against her decisions thinking she was going to Cardo's family causing the two to have an argument which resulted Alyana to leave but is unaware of Marco's violent behavior.
When Cardo poses as a doctor to rescue Romulo at the hospital due to being guarded by Hipolito's security, he meets Andrea "Andy" B. Collins, a nurse who also working at the hospital. Failing to rescue Romulo at their first rescue attempt, Andy's brother Stephen "Peng" Balaraw (Nicco Manalo) finally informs her about what happened to their mother much to her horrible shock. Vendetta successfully rescued Andy's mother Rebecca "Becky" Balaraw (Minnie Aguilar) and other hostesses being involved in human trafficking headed by Mr. Gibson (Andy Lunz) at their yacht as Blossom (Katya Santos) one of the hostesses was raped by one of the foreigners for their enjoyment. In the meantime, Marco forces Alyana to marry him against her will despite his father and his older brother's disapprovement and threatens her he will commit suicide while showing his violent behavior towards her and leave. Since Alyana didn't answer all of Marco's calls, his car accidentally crashed on the truck, nearly killing him. After rescuing Becky and the other hostesses named Blossom, Marigold (Jaycee Parker), Hasmin (Gwen Garci), Rose (Maui Taylor) and Dalia (Zara Lopez), Andy decides to join Vendetta to rescue Romulo at the hospital once again followed by her brother Peng, her mother Becky and the hostesses. At the hospital, Romulo was visited by the president of the Philippines, Oscar Hidalgo who wants to know some answers about Hipolito's corruption which Romulo tells him everything it happened and he begins to fed up his government rule much to his surprise. When the doctors informs Lucas, Brandon and Catherine that Marco is fine after the car accident as they argue because of Marco wanted to have a wedding with Alyana despite she was not annulled. Lucas and Brandon wanted to stop Marco's wedding as Lucas finds another way to stop this madness by making a file from the director of internal relations to put his wife enter the convention.
Andy and the others successfully informs Cardo and the others in how to rescue Romulo due to being heavily guarded by the security including the authorities as they make a strategy. However Alakdan informs Hipolito about Catindig's personal mission to take down Romulo including Vendetta as he calls Alakdan and his group are mere troublemakers.
As Alyana visits Marco at the hospital, he was happy and more focus to be with her. However, he angrily throws a fit when his doctor informed him that his therapy is over as Alyana witnesses his violent behavior.
When they are about to take their strategy to rescue Romulo, it was disrupted by Catindig and his men attacking every innocent lives including the authorities at the hospital to kill Romulo. Knowing that Andy is in danger, Vendetta is forced to attack Catindig's group to rescue them. Vendetta takes down most of Catindig's men as Cardo infiltrates to rescue Romulo and Andy from Catindig and his men who makes a total wipe out inside the hospital. They succeeded in their mission & killed Catindig but the PNP tried to catch Cardo & his friends as well, but to no avail, since they escaped. Hipolito tries to call Catindig, not knowing that he died.
While Marco is recovering at the hospital, Alyana received the annulment papers sent by him as he called her in a happy manner. Her mother was happy about Marco being with her daughter but Alyana is unsure to sign the annulment papers after knowing of his violent behavior. Therefore, his half-brother Brandon became involved in weapons smuggling in which he had found out that Alakdan remains in contact with Hipolito while he got paid for the smuggled firearms.
Hipolito is forced to use Alakdan and his group since his right-hand man Catindig and his group were killed by Cardo and his vigilante group as Alakdan's group serve as his back-up.
When General Borja sent two of Cardo's former comrades to search about Vendetta's hideout, the neighbors became suspicious to their appearance only to warn Becky about their real presence as policemen. She tells Cardo that she and the others will deal with them. After succeeding in distracting the two disguised policemen, Vendetta manages to take Andy to the hospital safety.
Meanwhile, Lucas and Brandon are secretly planning to take down Hipolito after exposing he was responsible for letting Catindig and his men makes a total wipe out at the hospital before being killed by Cardo and his vigilante group. After the battle between the two political campaigns of both Oscar and Lucas, he and Brandon personally meets Hipolito knowing he is one of Lucas' party members in his campaign. Despite his plan to expose Hipolito's corruption during their personal meeting, Hipolito finally explains his reasons why he became the member of Pulang Araw in his youth along with his rival Romulo whom he helps him in his severely wounded state. He was later sent in Manila to study politics while Romulo became the leader of Pulang Araw and this is how he was in the present where he brings down the rebel group successfully as a Defense Secretary until he resigns to run for senator while continuing his plans to bring down his rival Romulo, who is now leading the vigilante group Vendetta.
After hearing of Hipolito's story, Lucas decided to support Hipolito's ambition to become a senator since he and Brandon are responsible for selling smuggled weapons to them.
At some point, Alyana compares between both Cardo and Marco when they started their relationship to her. Later on, she was in charge on taking care of Marco by Catherine while she was away in New York despite being hesitant to do it along with Menchu.
By the time Andy works at the hospital and to get home safely, General Borja secretly follows her as he discovers Vendetta's hideout knowing that Andy was trying to assist the vigilante group as Andy also warns Cardo about his granduncle.
Lucas, Brandon, and Hipolito begin their reign of ascension by threatening most of Oscar's party members including other innocent people by using their lies and Alakdan's group to pose as from Oscar's campaign to make death threats to vote Hipolito as senator. Their plans are later found by one of the members of Vendetta as Cardo vows to expose their corruption after rescuing several teachers from some members of Brandon's group. Meanwhile, Oscar watches the video about the teachers being rescued by Vendetta and to his surprise that the vigilante group is actually the ones who rescue countless people instead of causing more casualties.
Vendetta succeeds for the second time in rescuing all of the people including Wally posing as call center agents from Brandon's group and was watched by most people including the President. During their victory celebration, Cardo misses his family and was given some wise advice by Ramil. Then, Becky invited the group to meet Brother Lorenzo Alano, the senior pastor of Liwanag ng Banal, an evangelical church that Andy and her family worship at. Brother Lorenzo, however, is Lucas, Brandon and Hipolito's next target.
By the time Vendetta rescue many people pose as call center agents and kill the headmaster, who also abduct some teachers who will be observers, seen in the news, Marco became extremely jealous. He lashes out at Alyana, thinking that she still loves Cardo; his violent behavior is caught by her parents. Alyana's father Teddy angrily scolds Marco for badly mistreating Alyana and he angrily threatens him that even if he is his daughter's boyfriend or his daughter's upcoming fiancé, he will never let him owned his daughter. This threat causes Marco to formally apologize to Alyana who is now horrified and afraid from his violent behavior.
Brother Lorenzo is then encountered by Alakdan's group as Alakdan forces him and his church to vote for both Lucas and Hipolito and threatens to kill him and his family. When Lorenzo finally announces to everyone from the church not to vote for both Lucas and Hipolito, he was later ambushed and kidnapped by Alakdan's group at the parking lot without Hipolito's knowledge as other members of his church organization (excluding Peng) are killed in a rain of bullets. Lorenzo was being held captive at Brandon's house where Brandon physically roughs him up because of his announcement and was kept inside so that his father Lucas will cover up their misdeeds. Their success was short lived however during the campaign party prepared by Lucas at the bar, Brandon takes Andy to his home while in a drunken state after meeting her in the party. Seeing Brandon's true nature like his half-brother Marco, he attempts to rape Andy prompting Vendetta to infiltrate his home while dispersing most of his men. Andy manages to knock Brandon out as she escapes and also encounters Lorenzo in the other room where he was being held captive who recognizes her as her nickname "Andeng". Andy frees Lorenzo and both continued to escape until Brandon angrily confronts them. Without warning, Cardo shoots Brandon before he could kill both Andy and Lorenzo and they regroup. Andy explains to Lorenzo that Cardo's group are a good people and they finally escaped but their conversations are overheard by Brandon after being shot by Cardo.
After rescuing Lorenzo and he told the media about the truth behind his kidnapping, Lucas immediately arrives at Brandon's house to see Brandon who is now on a stretcher, unconscious while being taken inside the ambulance. Lucas made a press conference, claiming that Vendetta was responsible from attempting to kill Brandon and he made a bounty of 5 million pesos on the vigilante group's heads. Therefore, his wife Catherine returns to the Philippines after visiting the convention and was bombarded by questions from the various media about both her husband and her step-son's involvement in the kidnapping as she angrily confronted Lucas stating that they caused to ruin their family reputation in a scandal and he became reluctant towards his wife to fix their problems.
When General Borja and two others from the CIDG visit Lorenzo at his office as he told them the whole truth of his kidnapping and informing them that Lucas' words during the press conference are full of lies as he decided with his lawyer to file a case of kidnapping and frustrated murder against Brandon, leading to Brandon's imprisonment.
Despite Menchu's warning about Marco's violent behavior, Catherine wants to bring Alyana back as she visits on her home to apologize for her son's actions and claiming that the news are all lies. However, when Marco visits at Alyana's house to fix his relationship to Alyana, it was blocked away by her father Teddy who informs him to leave. Teddy easily noticed about both Marco's father and his half-brother's involvement in the kidnapping of Brother Lorenzo as Marco became very defensive towards his family claiming that the news about both his father and his half-brother's involvement of Lorenzo's kidnapping was a lie and the reason why he was prevented from gaining entry to her house. Teddy tells him that there's nothing wrong in Alyana's decision and his family's involvement in the kidnapping and don't try to dictate his daughter's decisions as his obsessive actions also caused his daughter to be pushed away in a distance.
As the elections are getting near, Vendetta became ready and prepared to expose all of Brandon, Lucas and Hipolito's corruption within their political campaign. To their discovery, the special assistant to the President William Celerio (Bobby Andrews) is secretly working with Lucas and Hipolito as their motive is to make Hipolito win in the elections by cheating.
Lucas and Hipolito has a meeting with William and informing them that it will be their chance to make Hipolito win the elections.
Later, William successfully steals Oscar's USB within the safe box undetected from Oscar and his other cabinets after deciphering Oscar's pass code from the safe box by observing him. He later calls his personal hacker to do his job. William led the ambush and murder of the election officers and soldiers then takes the trucks carrying the voting machines to a secret warehouse to tamper the voting machines and afterwards, he killed his personal hacker to prevent any evidence that will point to him. Vendetta then successfully blocked the trucks along with Celerio's men and caused a shootout before the tampered voting machines can be delivered to the precincts, killing all of them and some policemen. Oscar then knew of the incident and postponed the election to investigate the tampered voting machines, not knowing that William stole his USB containing the pass code. When the elections came, which became peaceful and marking the success of Vendetta's mission, Hipolito became angered for losing in the elections when he was in the last place, as well as Lucas' political group. Lucas wanted to wipe out Vendetta for interfering in their plans. Hipolito angrily calls Alakdan to get rid of Vendetta which he evilly agreed, unaware that Alakdan and his group would be paid from Lucas instead of him. Meanwhile, Oscar discovers the massacres during the elections after General Borja sent it to him. Realizing that it was William who massacred these people.
During the victory celebration, Romulo allows Cardo to fix his family relationship including Alyana as Ramil gives him an advice to fight his love for her. Cardo later reunites with his grandmother Lola Flora inside the church and informs him about Alyana's relationship with Marco and showing the annulment papers to him. Cardo refuses to sign the annulment papers and he continued to keep an eye on Alyana from afar when Marco gives her a bouquet of flowers. After Marco successfully proposed to Alyana, Cardo then kidnaps her while she was in the comfort room unbeknownst to Marco, and takes her into his former buddy in SAF in the North, Caloy Mendoza. When Marco heard of this, he, with his yandere instincts, hunts both Cardo and Alyana with his personal guard.
Meanwhile, Vendetta was in hot water again, this time for killing William Celerio while they were investigating him. And Lucas used this opportunity to get closer to Oscar and plans to get rid of him. While CIDG investigates further, the team was spying upon Andy and her mother. Konsehala Gina was successful in defaming Lola Flora with her eatery and used her power to not only evict them on the house, but instill fear of Vendetta attacks upon gullible villagers, all while still retaining their illegal operations with her henchmen (Zaito and Shernan). Lola Flora then moves to a house owned by Kapitana Dindi, Gina's successor. They started their eatery anew.
In the North, Cardo tries to woo Alyana into remarrying him again. At first, Alyana was very hesitant due to his previous shortcomings to her but eventually opens her heart for him once again and then severs her ties with Marco by throwing his engagement ring into the river. Cardo then serenades her with the help from his friends, and successfully proposes to her again afterwards. The next day, they were married once again.
After their remarriage, Cardo was personally confronted by Tanggol (Joross Gamboa) the leader of the bandits after he took him down during the festival where he aggressively wants to dance with Alyana. He successfully beats Cardo into a pulp knowing he's not fighting back and as part of his revenge for taking him down. After Cardo recovers from his injuries, he decided to take Alyana back to Manila only to be observed by another group of bandits led by Tanggol's older brother Baldo (Rommel Padilla), who wanted to know about Cardo and what province he had come from and informs Tanggol and his group about his observations.
Back in Manila, Cardo and Alyana went to their families to say their goodbyes as they have decided to stay in the province of Sto. Niño for the rest of their lives. While at Alyana's house, Teddy and Virgie disagreed at first at their decision but eventually accepted. After saying goodbye to Alyana's family, they were unexpectedly seen by Marco, who starts chasing them, but they successfully escaped from his clutches. Marco then went to Alyana's house again, accusing both Teddy and JP for hiding Alyana from him, and when they tried to escape from him, Marco shoots at them, to the surprise of some customers in a eatery, but they successfully evaded him which eventually led to Marco's investigation by the police.
Both Cardo and Alyana finally get through to the Vendetta hideout in Legarda to see his comrades and to meet his wife as well as she meets Andy for the first time. Unbeknownst to them, an asset was sent by the PNP to the hideout to investigate and confirm if they were there. After the asset confirmed that it was Vendetta's hideout, Oscar then sent both the PNP and CIDG there to wipe Vendetta out. At the same time, Hipolito then orders Alakdan to go to the hideout as well, after Terante ratted the operation. Marco, on the other hand, also planned to go there, against his parent's orders, to kill Cardo and reclaim Alyana after his mother told him where Cardo was.
As Cardo wanted to say goodbye to his comrades, the PNP and CIDG arrive as well as Alakdan's group on both sides to infiltrate their hideout. However, Alakdan's girlfriend, Bubbles immediately escaped from his clutches to meet up with Becky and the others on the Vendetta hideout as she warns them about Alakdan and his group causing Andy to warn Cardo and the others about their presence including the authorities. During the infiltration, Both Cardo and Romulo's group made their separate sides to kill most of Alakdan's group (excluding the authorities). As soon as they escape from Alakdan and his other hitmen, Cardo urges his wife Alyana to go with Becky and the others to escape while he and the others return to help Romulo. During the gunfight, Happy is critically shot multiple times by Alakdan, but one of his men was killed too. Cardo allows Wangbu (Jobert Austria) to escape along with his wounded comrade. Cardo then ambushes Alakdan long enough to cause them into a dangerous brawl. Alakdan overpowers Cardo in a brawl and attempts to kill him by stabbing him with a knife but Cardo blocks him and finally stabs him in a stomach with a broken bottle, putting him unconscious. Cardo slowly walks away, finally avenged the deaths of the innocent victims including his son, Ricky Boy, from the explosions caused by Alakdan and his group as he encounters both Jerome and Rigor who were injured in the gun fight and took them as they flee. By the time Vendetta escaped from their hideout from the authorities, Alakdan survives his wounds sustained from the broken bottle stabbed by Cardo and was calling for help. During the escape from the authorities, Marco and his private army suddenly arrived, causing a shootout once again. Greco and Butete were wounded, Happy dies from blood loss due to his multiple gunshot wounds and Barakuda is killed by Marco and his grenade launcher taken from him. Cardo and his group avenged their deaths by killing some of Marco's remaining men as Ramil and the others get to their vehicles to make their escape. During the car chase, Marco and his group shoots Cardo and his group but was avoided. Cardo finally had enough of Marco's murderous behavior for attacking them, he and his group stop their car as they dropped off to shoot their cars and successfully killed Marco and his group in a rain of bullets before Anton shoots both of their cars in explosion, avenging Barakuda's death.
At the hospital, the female doctor informed both Lucas and Catherine that Marco was declared dead on arrival due to blood loss sustained from his multiple gunshot wounds and Catherine couldn't accept that her son was dead as Lucas hugged his wife, mourning over his son's death, her mind broken.
After taking down Marco and his group, Cardo and his group are now taking refuge on Wangbu's house where they meet Wangbu's family as Lolo Efren (Robert Arevalo) allows them to stay. At the time of Marco's wake, Lucas swore revenge against Vendetta for murdering his son and he secretly orders Alakdan's men to massacre both of Cardo and Alyana's family while Brandon was willing to escape in prison to take revenge on Marco's death. Despite Catherine's mourning over her son's loss and not listening to General Borja's word, she was still unaware of her son's investigation of the authorities when he almost shot both Teddy and JP before being killed by Cardo and his group during the car chase.
After Marco finally laid to rest, Lucas' direct order is on-going as planned and Alakdan's group were tasked by Hipolito to capture Alyana's mother Virgie to find information on Vendetta's whereabouts which they succeed in capturing her but their plans were discovered by both Teddy and JP. As the group failed to interrogate Virgie to find Vendetta's whereabouts, they were scolded by Hipolito while Alakdan decides to go with his group as they were ordered to attack Cardo's family next. Therefore, at Wangbu's house, Jerome and Rigor are confronted by Ramil after he was contacted by General Borja about their whereabouts but also had their commotion during their dinner night with Wangbu's family. Bubbles finally tells Jerome, Rigor and Alyana about Alakdan's involvement with both Lucas and Hipolito as well as informing Cardo about their alliance.
Meanwhile, Alakdan's group attempted to threaten Lola Flora and the others when they enter their house, but was backfired due to one of the police officers interrupts one of their men who acts as lookout, causing an intense gunfight until the arrival of General Borja and the others to open fire on Alakdan and his group, who quickly escaped. He successfully rescued his older sister and the others. After Jerome informs General Borja about Cardo's plan, Cardo was angered because he thought that Jerome and Rigor are going to betray them, until he changes his mind after being convinced by him. Cardo then sets out a plan to kidnap Oscar.
As Lucas allows Catherine to return to United States to subside her grief over Marco's death and Oscar refuses to give Brandon a pardon after he was guilty for his crimes during the court trial, he plans to kill Oscar to become the president of the Philippines by using General Alejandro Terante's private army to assassinate him in exchange of protecting Terante's illegal activities, but Hipolito didn't like his plan and has a hidden agenda against him.
Their assassination plot are soon found by Oscar's bodyguard, Harold Casilag after Oscar's presidential speech at a homecoming at Camilo de Santiago University, where they graduated, knowing it was a threat, he took Oscar and his family to safety as the sniper shoots the innocent civilians creating a commotion.
Casilag tells them to stay safe until Lucas informs them to leave the area and to blame Vendetta for causing the chaos. But Oscar was still unaware that Lucas was behind for assassinating him. Meanwhile, Casilag confronts the sniper and after a brief fight, he successfully shoots the sniper. As Oscar and his family escaped, they were cornered by several gunmen but they were killed by Casilag who arrived in time to protect Oscar and his family. Unfortunately, Casilag was gunned down and killed by the gunman posed as a civilian when he protects Oscar from getting shot before he kills it. He allows Oscar and his family to escape before dying until Lucas arrives the scene. As Terante's first plan had backfired, Terante informs Lucas about the second plan which is to ambush Oscar and his family during the escape as Vendetta follows their route and they came in time to stop Terante's second plan when they are about to ambush Oscar and his family. During the gunfight between Vendetta and Terante's men, Oscar's car were initially thrown by a smoke grenade, forcing Oscar and his family to move to the other car in order to escape from being smoked and to avoid suffocation. However, Oscar's children Yohan was gunned down by one of Terante's gunmen while Mary Grace was also shot from a stray bullet causing Marissa and Aubrey to be devastated and to Oscar's horror. While being on pursuit, Cardo follows to rescue them by riding a motocycle and to take down Terante's remaining men. At the third phase of Terante's plan, they succeeded in shooting Oscar, Aubrey, Marissa and their driver before Cardo kills them out. He then discovers Oscar was still breathing as he took him away in a bloody state to regroup with Vendetta leaving his family behind who finally taken to the ambulance to the nearby hospital for treatment but both Yohan and Mary Grace are declared dead on arrival while both Marissa and Aubrey are in critical state.
After Lucas scolds Terante for his failures and not following on his deal, Terante kills one of his cohorts by burning him alive inside the drum and using his burned corpse to pose as Oscar's corpse to make Lucas become the acting president of the Philippines as Hipolito begins to oppose Lucas after he had thought about more of his plans to kill Oscar's remaining family.
Back at Wangbu's house, Cardo and his group returned and takes the injured Oscar inside their home to be treated by Niko (Ced Torrecarion) despite that he's not a doctor or a surgeon but as a veterinarian and was assisted by Olegario to help him remove the bullet in Oscar's right chest as Cardo and his group observe them. After removing Oscar's bullet and his fever, Niko informs Cardo and his group about the good news on Oscar's recovery. At the hospital, Oscar's wife Marissa finally succumbs to her wounds after a number of flashbacks happened to her and the aftermath of the ambush while Aubrey was in a comatose state until her right hand was moving indicating her survival of the ambush. Lucas now the acting president of the Philippines promotes Terante as the PNP Chief with the rank of four-star general to make direct orders to stop Vendetta as Hipolito dislikes his plan after both are staring each other at Yohan and Mary Grace's funeral. Oscar finally awakens after recovering from his injuries and meets Cardo and the group and he recognizes Olegario. Olegario informs them that his family were killed causing him to be devastated and blames them for their deaths even if it kills him until Lucas made an announcement about Marissa's death and his daughter Aubrey who was in comatose, making him more devastated. Cardo and Jerome restrain an enraged Oscar while blaming them for their deaths not knowing that Lucas was behind the ambush for killing his family. After calming Oscar for the incident, Cardo realized during their discussion that Lucas convinced most people around Metro Manila including Oscar that their group were the ones behind the ambush as Lucas was really the one behind it, not them. As Lucas takes the oath as the President of the Philippines, he appoints Hipolito as DENR secretary while Terante as the PNP chief. Despite the betrayal made by Lucas for replacing him as Philippine President, Oscar still didn't believe that Vendetta is not an enemy and wants to escape from them even he rudely tells Alyana about Cardo and his group being criminals in the state.
Prior to Lucas' oath taking, it was revealed that Wangbu's cousin Patrick (CJ Ramos) is a drug pusher who sells sachets of shabu to his neighboring friends for money and the reason why his sister Marie (Sue Ramirez) dresses up like a rich woman until the authorities caught them. Patrick shoots the police dead using Wangbu's gun, that he took while Wangbu was asleep, before he and the others fled after one of his friends was shot in the leg and he felt guilty after shooting the police. However, Rosa (Mystica), who is the drug supplier who distributes shabu like Patrick and frequently abuse her children due to her greed for money, angrily refused to gain entry at her home after Patrick reveals to her that he had killed the police while they were after by them.
At the Malacanang, Lucas informs Terante and Hipolito to deal against Vendetta as well as both Oscar and Aubrey as he considered her being dead despite her current condition. As soon as Oscar wants to escape from Vendetta by convincing both Jerome and Rigor, they refuse and it was revealed that Oscar is unable to listen to the vigilante group's explanations about the whole truth while he was targeted by Lucas in his recent administration after he made an ambush to kill him and his family. But after Jerome and Rigor inform General Borja about Oscar, he flees the scene and both immediately informs Cardo about his escape causing him and his group to chase him until they cornered him through the river. After the chase, they manage to take Oscar back to Wangbu's house and he angrily calls them as the enemy of the state for killing innocent people but Cardo angrily berates him that they kill people involve in corruption which prompts Romulo to let his men guard him and they realize that stop him from escaping was risky. Despite to guard Oscar, he manages to disarm Wangbu before he could bound him by the ropes and takes him as his hostage by gunpointing them with his handgun which provokes Cardo for his enraged actions to escape from them. Despite the commotion between them, Cardo allows Oscar to escape much to everyone's disappointment. Cardo's reasons to allow Oscar to escape is to let him know who his real enemy is and also prays for his safety as Alyana calmly tells him to rescue him knowing he was in danger which he agreed.
As General Borja keeps his position but is under Terante's command, he was ridiculed by Oscar's supporters due to his relation to Cardo and his vigilante group especially his older sister Lola Flora after both Yolly and Wally were nearly attacked by townspeople due to manipulation. As Oscar arrived at the church where the remains of his wife Marissa and his two children Yohan and Mary Grace are kept during the wake, he sneaks through the back of the church as he saw their caskets. Therefore, he accidentally discovers that Lucas directly orders Terante to kill him during their discussion with Hipolito after he mentions him along with Vendetta. Oscar now learns that it was really Lucas who killed his family in the ambush and not Vendetta, and he cannot forgive him for killing his family. As Oscar leaves, Lucas immediately followed suit as both saw each other eye to eye as he escaped causing him to order Terante and his men to kill him. Oscar was chased by several policemen knowing he was in danger and he now thinks who side he was on until he was rescued by Cardo and his group while they wipe out Terante's men and all policemen in a rain of bullets before leaving the premises, while Cardo picks Hidalgo like a cat. Oscar finally apologizes to Cardo for doubting them as enemies and for his rash behavior which Cardo gladly accepts and reassures him that he was alive.
Meanwhile, Lola Flora confronted the townspeople who forced to evict them on their home and it was revealed that it was Konsehala Gina who was behind the manipulations of the townspeople because of her relationship to Cardo and Vendetta and also responsible for previously evicting them. She soon called Teddy about their current situation that they moved several blocks away on Borja's own unused house.
Failing to kill Oscar, Lucas became disappointed to Terante's failures as Terante had an intense argument with Hipolito. He directly orders Terante to kill Oscar followed by Cardo and his group. After Vendetta rescued Aubrey from their ambush plot and being reunited with her father, Lucas angrily scolds Terante for his second failure. Terante now became the PNP chief after being promoted by Lucas during the inauguration as he vows to take down Vendetta. After his promotion, He also put a bounty on both Jerome and Rigor due to both being take part in Cardo's group as well as arresting General Borja for having an alignment to his grandson Cardo, leading to his interrogation of the Vendetta's whereabouts.
Meanwhile, Gina and her cohorts manage to destroy Lola Flora's eatery due to her alignment with Cardo and Vendetta and Lola Flora became stressful for what they have done. At Wangbu's house, Cardo and Oscar decided to clean up the corruption within the Philippine Government.
Season 6
The realization of Oscar Hidalgo from the real situation of the country which meant to decide he joins with the supposedly known vigilante group named Vendetta led by Romulo. It also details about the post-existence of the massive rebellion recurring from the provincial state of Sto. Nino. It is the re-emerging of Don Emilio's fake death but by acting as Senior Gustavo Torralba, by an anonymity.
Vendetta finally obtains the trust of Oscar Hidalgo following another assassination attempt on his life, which was timely prevented by Cardo and Vendetta with Hidalgo witnessing everything that transpired. Now aware of the true colors of his supposed political allies, Hidalgo resolves to regain the presidency which Lucas Cabrera unlawfully stole from him.
After the unlawful arrest of General Borja before interrogating him to find Vendetta's whereabouts, they had a party along with Lucas and Brandon Cabrera at the PNP Headquarters and one of Lucas' allies Albert Hernandez was chosen by Lucas to become his Vice President as PNP Chief Alejandro Terante became angered due to Renato Hipolito's negative and sarcastic remarks.
Meanwhile, Lola Flora became more stressed since Konsehala Gina Magtanggol and her cohorts destroyed her eatery especially after hearing of what happened to her brother while being informed by Billy.
With the Philippine Government became worsen due to its corruption created by Lucas and his administration, Cardo informs Oscar that they need to make their move. Therefore, Jerome quickly informs Cardo about what happened to his grandfather after being informed by Billy that General Borja was not detained at Camp Crame but in a military camp where he was pummeled and tortured by Terante and his group and they were concealing their corruptive acts by blaming Vendetta. Oscar knows that their actions were illegal. Worried of endangering his family, Cardo decided to rescue his grandfather at their hands and informs them that Terante knows the location where General Borja has been illegally detained.
Despite General Borja's torture and killing one of the missing reporters to threatening him to speak about Cardo's whereabouts from one of Terante's group, Terante and his convoy were cornered by Vendetta as Cardo manages to shoot Terante to the chest, seriously wounding him and killing all the policemen he used as escorts. Wanted to live at their hands, Terante shows to the vigilante group at the safehouse where General Borja was being held captive. As soon as Cardo successfully rescued his grandfather from his clutches, Terante himself took Wangbu (Jobert Austria) as a hostage knowing he was too weak and threatens both Alyana (Yassi Pressman) and Bubbles (Bianca Manalo) by gunpoint. Due to Wangbu's stupidity, he was shot by Terante to make his escape. After Cardo rescues his grandfather and seeing a seriously wounded Wangbu due to Terante's escape, General Borja recognizes Jerome, Rigor and General Olegario and also salutes Oscar, recognizing him as the President of the Philippines. During the time of General Borja's captivity before Cardo and his group rescued him at the safehouse, Billy along with Mark Vargas and Chikoy, had plans to rescue their superior but not knowing that their new CIDG Director General had already set a trap for them due to their loyalty towards General Borja.
They returned to the house, they treated Wangbu's wound and later, Delfin called his sister that he is safe. While Hipolito sarcastically remarked to Terante that he failed on his performance while recovering in the hospital, that results to near-brawl if not for Cabrera's intervention.
Aling Rosa (Mystica) tried to retrieve her children, but failed when Cardo intervened. Terante's men inside CIDG hatches a plan to frame Billy, Mark and Chikoy with a fake drug bust which they succeed in capturing them for interrogation about Vendetta's whereabouts. Aling Rosa then uncovered a list of Vendetta and their rewards, which she went to a police station with her boyfriend to raid the compound. Before raiding the compound, Aling Rosa tells Terante about the Vendetta's whereabouts which they currently lived at the compound. Terante did not believe her at first as many imposters were claiming that they saw Vendetta for the large reward, but she said President Hidalgo was also there made the General mobilize his men.
Meanwhile, Hipolito is going to meet the owner of the mines, Don Gustavo, which was revealed to be Don Emilio himself, having survived the clash between him and Vendetta in Baguio. He was saved by an elder and taught him mining and inherited the company. He was wounded and blinded on the battle.
The initial clash claimed the lives of Lolo Efren, Lola Melba, Marie and her parents during their breakfast meal, which forces Cardo and his group to open fire at them while trying to escape. As they were chased by policemen, Bubbles, Anton, Patrick and Diana were wounded. They commandeered the police mobile vehicles and went to a hospital to treat them. Terante and Brandon went there to kill all of them but were too late as Vendetta escaped from their clutches, making their mission a failure and all of the vanguard of policemen, 17 in all was killed. Terante was then berated by the Cabreras and Hipolito was going to cash in the proposal.
Meanwhile back at the compound, vengeance was served cold upon Rosa and her boyfriend when one of Patrick's friends killed both of them for reporting to the police and giving Vendetta's location away to them, avenging the deaths of Patrick's family.
While Cardo's comrades were being treated, one of the staff members successfully called and informed the police about Vendetta raiding the hospital, despite Ramil catching him off guard. When Cardo knew about this, he and his comrades escape the hospital before Terante and his men arrived. Cardo then commandeered a jeepney and took his comrades to Sto. Niño. Despite being in shock of what Vendetta went through, they took them under their wing. They enjoyed the sights and swam upon the river. They raised plants and animals to reduce the family's upkeep on them.
Meanwhile, Señor Gustavo, relocated to Sto. Niño because the black market wanted diamonds, which was absent upon the former site. He acquired Baldo's consent and help.
Hipolito, agreed upon the share of income if he could meet with Gustavo, courted Gascon Dela Vega relentlessly until Gustavo agreed at last. He went along with Homer's group. The two met on Gustavo's place and sealed the deal. The government will get 50% share and they will overlook the violations Gustavo's operations will cause. All the while, Homer recognizes Gustavo as Don Emilio, the one who mauled him for cornering him with the drug deal.
JP and Teddy continued their crusade against Cabrera, the latter went to meet up several policemen that hated Terante's rule, but unknown to them, a mole implanted by General Marquez tells his superior who 'Juan Verdad' is. JP meanwhile was hired by his former professor and he met up some students who are student activists. They organized rallies on Quezon Memorial Circle, the Palace and anywhere, Terante dispersing them every time. Teddy was threatened by an assassin from 'Juan Verdad's posts. And Cabrera's patience snapped when rallies were set up on the Palace gate, so he used force, by dispersing it without using police force, and abducting the ringleaders. One of them tried to escape, but was killed. The others fates were unknown. JP escapes the commotion and pleads to visit the youth group leader's wake, but was warned by his parents.
Brandon's power tripping continues after plasticizing with fallen policemen's families, he went to a bar, but he mauled a security guard that only intervened. The man reported the damage unto Mayor Adonis with Marge's help. But Mayor Adonis was threatened by the Vice President and DILG secretary about overlooking Brandon's issue with Mang Kanor. The 2 policemen, who always frequented Konsehala Gina's eatery, took Marge's bag. They reported it on the station, but the police does nothing. And the VP and DILG secretary threatened Adonis if he makes issues further. The mayor later retracts his accusations, and the 2 policemen took away Mang Kanor, for "investigation". Later, Adonis tried to plead with the Chief of Police, but the chief declined and laughed.
Lola Flora's quest for his brother's justice, went to overhear several victims about the lawyer's deliberate ignorance. She also talks about the case.
Tyson's men went to Baldo's group to check upon the progress of the bandit group's prep. Baldo took the services of another bandit leader, Gapon (Ariel Villasanta). Tyson and his men spotted Bubbles and the other women washing clothes. The group tried to rape her, when Jerome and Rigor went to the rescue, but mauled by Tyson's pack, but not until Aubrey warned Vendetta about what's happening. They rescued the women and drove the gang away. After the issue, they went to the Barangay Captain, which the village head agreed upon Vendetta helping the tanods on their patrol, although in a volunteer basis. Vendetta accepted the conditions.
Hipolito and Terante's feud over the former's operation of mines and Lucas Cabrera's approval went on the boiling point. Homer suggests dealing with the PNP Chief, while Terante plans to take out Hipolito once and for all. The shrewd secretary arranged a meetup with Terante, while each other thinking of getting rid of each other at all.
Tanggol, Baldo and Gapon's group went to Diego's camp. Señor Gustavo met up with his future enforcers. The night before, his lover Madonna acts like she was victimized by a guard who overheard her conversations, so the old man killed the guard. And warned anybody who looks at her with lasciviousness will get snuffed out.
Renato Hipolito and Alakdan and the Kamandag later killed PNP Chief Alejandro Terante after a short battle with him when Renato and his allies began to ambush Alejandro and the personal bodyguards in attempt to finish him and frames Vendetta for his murder. They later took out General Marquez after he suspected that Hipolito was involved in Terante's death, he also eliminated the loyal police officer to clean up his tracks. Cabrera's men abduct Virgie in retaliation and took her to a detention facility alongside others who were against Lucas' tyranny.
Meanwhile, distrust brews between Tanggol, Baldo, Gapon and Diego. While the siblings will abduct villagers for forced labor in the mines, they decided not to attack Sto. Niño, for there's too many soldiers on that town. They decided to attack San Clemente and other nearby towns, which they succeeded.
Mayor Adonis, strengthened by the belief that he done the right thing, called a press con and implicated the VP, who is also DILG secretary on threatening him. Brandon asked his father to fix this himself. Eventually, Lucas then ordered his men to kidnap Margie in retaliation.
Wally and Elmo overheard the reason why the two policemen, Gapuz and Pantig, were always at Konsehala Gina's eatery, is to extort money to her recently reopened gambling rings. They said it to Lola Flora, who told them to do it in a quiet way.
Meanwhile, romance blossomed on Bubbles and Jerome, while Romulo and Diana fell in love with each other, the latter later confessed to Vendetta about their feelings for each other and Romulo eventually serenaded Diana, with the help of Vendetta.
During an outreach program by Lucas and Brandon on the victims of Vendetta, the student rally group along with JP went there as well to rally, leading to JP's kidnapping by Lucas' men. They tried to extract info on both mother and son, but failed. Teddy went on to broadcast a threat to the President fearlessly. Eventually, he would receive a gun from his editor in chief, Jonathan, and he later attempted to assassinate Lucas during an outreach, but he hesitated before doing so. Despite that, one of the reporters caught him red handed holding the gun and alerted the policemen, but he successfully escaped from their clutches.
In Gustavo's mansion, Madonna began seducing Gascon slowly by telling him that Gustavo is just abusing him due to the mining operation being in a slow pace and she prefers Gascon over Gustavo, then she plans to have all of Gustavo's riches with Gascon. Eventually on one night, Gascon gave in to her seduction while Gustavo was asleep.
Homer and his group went to Sto. Niño to keep an eye of the mining site. And the mines officially started when the group took the 'miners' on the site. Distrust then built up between Kamandag and Tanggol's group after Homer killed the miners that were attempting to escape, slowing down the mining operation in the process. Homer and Tanggol eventually brawled against each other when Tanggol had enough of Homer's attitude with Homer winning.
Meanwhile in Manila, Teddy asked help from the policemen, who were not loyal to Lucas, to rescue Virgie, JP, and the other prisoners. They later followed Gapuz to the detention facility secretly, then informed Teddy about it. Teddy later sneaked past and shot one of the guards, who was about to shoot JP. JP then lead his father to where Virgie is being held and successfully freed her. The policemen then raided the facility and successfully freed the other prisoners, including Margie. Lucas, Brandon, and Hernandez then learned about the breakout. The policemen then took Teddy and his family to a hideout to take shelter, but were later ambushed by Lucas' men, killing the policemen who helped them but luckily, Teddy and his family successfully escaped from Lucas' men. He asked help from Jonathan to lend him a car. When they were about to return to their house, they found Brandon and his henchmen searching their house, and they immediately left before they were spotted by Brandon's henchmen.
While Madonna is in Manila, Gustavo sends Gascon to Manila to give P50M to Hipolito and to look after Madonna even if Snooki was with her. They later stayed in a hotel before returning to Gustavo, not knowing that Gustavo was already suspecting them both. However, before Gustavo handed Gascon the P50M for Hipolito, Gascon saw the other riches that Gustavo was keeping in his safe, consisting of gold, diamonds and jewels.
Meanwhile in Sto. Niño, Romulo planned to ask for Diana's hand in marriage and asked Vendetta for help. They borrowed a horse for Romulo to use to take Diana on a walk before eventually proposing to her. After they were finished wandering, Romulo eventually took Diana to a hill and successfully proposed to her. Eventually, Cardo had decided that the group bury their weapons for good to live a new and peaceful life in Sto. Niño. Romulo and Diana later got married at the hill where Romulo proposed to her.
Back in Manila, Teddy and his family took shelter in Lola Flora's house temporarily. Eventually, Lucas' men went to the house to observe and overheard Elmo and Wally that the Arevalo family is in the house. Lucas then ordered the policemen to go to Lola Flora's house to arrest Teddy for the attempted assassination. Lola Flora allowed the police to search their house while Teddy and his family hid. After the policemen left, the Arevalo family left as well because they're no longer safe as the policemen might come back for them. Margie then told Mayor Adonis to take the Arevalo family to his rest house to take shelter.
After many of the miners suddenly died in the mining site due to extreme exhaustion, Baldo and Tanggol eventually decided to go to Sto. Niño in order to abduct the men to become the replacement miners at the site. Their attack took the lives of Lolo Marsing, Lola Nita, the Barangay Captain and several others. After Vendetta heard the gunshots, they attempted to make their escape before Cardo decided to stay and fight back along with Romulo and the rest of the group while Alyana, Diana, Bubbles, Delfin, Aubrey, Oscar along with Ana (Rhed Bustamante) and Aye (Kenken Nuyad) made their run. Baldo and his group then went after them when they were finished abducting the men. While Cardo and his group were fighting Baldo and Tanggol's group, Butete, Bulate, Rigor, and Greco were wounded. As Alyana and the rest were running from Baldo and Tanggol's group, Delfin and Aye were wounded from the ensuing chaos. Aubrey was then fatally shot by Baldo, before his group eventually retreated. They went to a nearby village to seek help but failed when the people refused, until a family helped them find a health center. After their comrades were treated, Patrick saw Baldo and Tanggol's group approaching and alerted the others, leading them to evacuate the health center right away to avoid getting caught, taking Aubrey's corpse along the way.
Brandon ordered his men to follow Mayor Adonis in order to find the location of Teddy and his family. But Adonis, along with Margie, noticed that Brandon's men were following them and decided to turn around and not go to the rest house instead. Brandon then went to Adonis' house to confront him personally about Teddy. When Adonis refused to tell the whereabouts of Teddy, Brandon beat him up until Adonis fought back and shot Brandon using the gun that was given to him by one of his bodyguards. Meanwhile, Margie wanted to visit Adonis to bring him food and confess her feelings for him at the same time. When she arrived there, she saw Adonis before Brandon fatally shoots him. With his dying breath, Adonis then confessed to Margie that he loves her as well. She decided to tell the truth about Adonis' death at the hands of Brandon, covered up by the biased media. She firstly sent her sister and niece to Adonis' safe house, where Teddy and his family are, to keep them safe.
Cardo and his group then found a home that is three mountains away from Sto. Niño. They decided to stay there as they thought that it was abandoned, but eventually the owners of the house returned and caught them. At first, the owners didn't believe them until they saw Oscar, who told them that they were telling the truth. Then, they told everything that happened in Sto. Niño when Baldo and Tanggol's army invaded. Oscar then buried Aubrey, with the help from the group, and promised to give justice for his family & the other victims in Sto. Niño. He also promised to take back his position as president that was unlawfully taken from him by Lucas.
Homer, bored on the mines and wanted to observe Baldo and Tanggol's movements, went to the barrio. But distrust to each other were simmering on both sides, with Tanggol and Baldo against Homer, with Diego and Gapon too at each other's mercy. Homer eventually learned that Cardo and Vendetta was on the barrio, and decided to join forces with Tanggol, Baldo, Gapon, and Diego to take out Cardo and Vendetta.
Cardo eventually decided to return to Sto. Niño along with a few members from Vendetta, including Oscar, to dig up the weapons that they buried there and find where Baldo and Tanggol's men kept the others without getting caught, while the wounded stayed at the house to heal their wounds. The group went to the barrio stealthily, and eliminated the group who tried to rape Doray, as well as taking their weapons afterwards. They also eliminated Diego's group. Then the group went to the church, where the bandits held the villagers to work as miners, but the villagers suffered casualties until Vendetta finished the guards, but their cover was blown. The battle between Cardo against a battalion of bandits and thugs began. Diana and the rest eventually went along to follow the group as they got worried on the safety of Cardo's group.
Señor Gustavo was dismayed at Homer's disappearance at the mining site and the slaves tried to resist, which Tyson and his group then crushed. He called Hipolito, which is on his way to collect the bribe he demanded on the old treasure hunter. The two met, and the old man hesitated giving the demand. But before that, he gave a dangerous hint about Gascon and Madonna's plan.
Meanwhile, Margie bravely revealed to the media that she herself witnessed with her own to eyes Brandon kill Adonis. Brandon, upon seeing the matter, planned to take out Margie.
Diana's group continued to look for Cardo and the rest of Vendetta and killed some of Tanggol's men along the way. Unfortunately, Homer and his group spotted them and they went on to tail them. Diana's group eventually got cornered by Homer and Gapon's group respectively. Outnumbered, the group went in an opposite direction, inadvertently leaving Diana and Bubbles behind. The two women were consequently captured by Alakdan. The rest however, ambushed and finished off Gapon and Diego, killing them both. Cardo and his group, on the other hand, managed to take out the rest of Baldo and Tanggol's army. He then, along with Romulo, engaged Tanggol and Baldo in hand-to-hand combat respectively. Cardo defeated Tanggol, then gave Caloy and the victimized men a chance to exact revenge on the notorious bandit for his constant crimes in Sto. Niño. Romulo and Baldo ended up in a river as they fought. Baldo gained the upper hand after a few hits and slashes with a wood and a knife, bloodying Romulo. But the latter managed to still fight back. Baldo retrieved his gun and was ready kill Romulo. But Romulo immediately grabbed a bamboo staff with a pointed edge and threw it like a javelin to the bandit's chest, killing him and avenging Aubrey's death. Romulo later finished Baldo's remaining men when they arrived and attempted to kill him for killing Baldo. Afterwards, Cardo and the villagers found the rest of Vendetta, who followed them, and learned that both Diana & Bubbles were captured by Homer. Romulo then rode a horse to go after Homer's group with Cardo, along with Vendetta and the villagers, following him. Romulo manages to shoot some of Homer's men, including Roldan, who were holding Diana. Afterwards, Homer arrived and Romulo sacrifices himself to protect Diana and gets fatally shot. Diana then gets recaptured by Homer and his group & was taken to Hipolito's house, along with Bubbles. While they were mourning for Romulo's death, Cardo learned from Caloy that Homer is still alive and was working with Tanggol, Baldo, Gapon, and Diego.
Fearing that the detained people might speak up against the administration, Lucas orders his son to execute all of the prisoners they captured in the detention facility, including Billy, Mark, and Chikoy. The three CIDG policemen then fought back by taking the guns from the guards before they were executed and saved the other prisoners and escaped the detention facility together using a van along with the others. The three then went to a house of an old friend of Mark to take shelter. They decided to meet up with Teddy, which was successful and Teddy got supplies and a weapon.
While the case of Margie against Brandon still in fiscal, the Cabreras wanted to destroy Margie's reputation, they went to file the counter-affidavit by themselves, despite anti-Cabrera rallies are outside. While Margie was pestered not only by the media, but with pro-Cabrera rallying outside Lola Flora's house, then decrying Cardo and Vendetta. Konsehala Gina used this issue to boost her "epal" ability, or her egoistic tendencies, as she faced the media, which Margie confronted. Wally and Elmo did vengeance by destroying the wheels.
Caloy and his cousins volunteered to enter the mines where Gustavo are hiding their slaves to search for Bubbles and Diana, which the group agreed upon. While the others were put into another place to recuperate and prepare for the battle ahead. Caloy and others warned Vendetta about the mines, and they said that Diana and Bubbles is in Manila, which put the group in the dilemma of either saving the mine slaves, or saving Bubbles and Diana. Cardo chose the former and called on the people who they saved to prepare for the attack.
Hipolito has a plan, which involves Diana as bait to lure out Cardo and Vendetta. And he then tasked Homer to eliminate Margie without implicating Cabreras and make it look like an accident. The case she filed were approved to be filed in the court, despite Cabreras' pressuring the fiscal.
Señor Gustavo suspected that Madonna was having an affair with Gascon, so he went on like there's nothing to suspect. While having dinner, he secretly took a video of Madonna flirting with Gascon, thus proving his instincts right. Gascon, Madonna, and Snooki then proceeded to continue their plan after Gascon had a change of heart (as he didn't want to get involved before in Madonna's plans on betraying Gustavo). The 3 of them proceeded to take Gustavo's riches. When Madonna realized that they still needed to take more, she orders Snooki to go back to Gustavo's vault after the latter initially hesitated. Snooki was then caught by Gustavo red-handed stealing his riches and shoots her, despite her pleading. Gascon and Madonna then proceeded to make their escape from the mansion. Afterwards, Gustavo and his men followed them and he orders his men to kill Gascon and spare Madonna. He manages to shoot Gascon using a sniper rifle. He then took Madonna to her car and told her that she can have his riches she took from his vault as he still loved her. Madonna then told Gustavo that she never loved him in the first place. Brokenhearted, Gustavo then let her go on her car with the riches. Unbeknownst to Madonna, Gustavo placed a bomb in the car, and he then detonated it using his phone, killing Madonna in the process. Then he prepares for his inevitable rematch with Cardo and Vendetta, sporting a more brutal and heartless attitude, as he kills some tired and famished slaves.
Margie then went to her lawyer. There, Homer did the order Cabrera gave to them. He hired a fall guy to drunkenly drive a truck then ram the jeepney where Margie was riding. There are casualties and killed and wounded on the 'accident' in which Margie was one of the casualties. When Lola Flora and Margie's relatives charged on the jail where the fall guy was incarcerated, not believing the alibi, Pantig and Gapuz confronts them, and mocked them.
Vendetta crawls on the mine and silently took out some guards. After Gustavo kills some whiny slaves, another organized a breakout, which Gustavo and his men killed, Cardo was spotted by sentries, which a gunfight started. Akihiro was killed by the slaves, Bruno was killed by Rigor, Tyson was killed by Jerome when he tried to pick up his pistol, Vendetta fighting Gustavo's men and Cardo mortally wounds Gustavo in a duel. He was taken to the helicopter and tried to escape, which Cardo shot down, finally ending Gustavo's life once and for all and avenging his father's death. The slaves were then saved by Vendetta and Sto. Niño's remnants. Cardo declined the offers of the survivors to assist them, as some of them lost everything and Cardo was their last hope. Cardo then told them they have a chance to rebuild their lives and all of them agreed. Then, they all prepared to go to Manila to rescue Bubbles and Diana, and topple Cabrera once and for all, via another villager's vehicle. They went on to Cardo's old friend Orlando Reyes (Hyubs Azarcon) to hide out.
Meanwhile in Manila, after the problem with Margie was done, Lucas decided to move against Vendetta, calling a General to bring a battalion of soldiers and his own men to where Vendetta is, and commanded to secure the village, expose the casualties and blame Vendetta on the carnage caused by Gustavo and Baldo's group.
At Hipolito's house, Diana and Bubbles decided to play along the group's tune to avoid putting their lives in danger. Eventually, Renato realized that Diana was lying when he heard of the "massacre" of Vendetta in Sto. Niño in the news.
The corrupt cops planned to assassinate Lola Flora and Margie's relatives but unknown to them, the 3 CIDG policemen planned to protect their comrade's family from harm. Rallies were organized in support of Margie outside the wake, so openly killing Lola Flora is out of the question. The duo then snuck in to Lola Flora's house and attempted to kill her along with the others, when Billy, Chikoy, and Mark incapacitate them & then taking them away to Teddy's old hideout. They put a spy cam to record what the duo are arguing. Gapuz and Pantig were blaming each other for the fiasco, unknowingly they were being watched. Teddy and CIDG boys then used the recordings to spread it to the public and online. They then took Gapuz and Pantig to Camp Crame to be detained. To overwrite the Gapuz and Pantig's capture and confession, they rely on their biased media to report the 'massacre' in Sto. Niño, causing divided opinion on people. And as the two prepare to be transferred, Brandon's men attacked the convoy and Brandon gave the two another chance to do their job.
Due to the loss of the mines, Hipolito suggested to Cabrera that he will double the collection for protecting drug lords, and other illegal activities they still have. Then Renato called Lily Ann Cortez to speed up the money, then go to the Palace to remit it to Cabrera. Lily, seemingly allied with the Cabreras, dismayed upon Cabreras, and she wants to ditch the group when she heard of the failures of the administration. Lucas actually overheard it, then he explained how they manage things. But Lily never budged, saying that she's frank. She withdrew all her money in her account and prepared to leave, and Lucas just made sure that Lily knows her place. But documents about her lie-cheat-steal issues arose during the Secretary's research. Lucas sent Brandon to tail her, and if possible, eliminate her. Lily went first to a church to pray, then went to her family's grave. Unknowingly, Pantig and Gapuz was on her trail.
Vendetta went to Rolando's house. Rolando, a former Cardo's junior in the police force, hesitatingly welcomed them. He also acquired a jeep, which the driver was once a criminal's henchman that Cardo busted during his time as a police officer. He agreed to take Vendetta on a scouting mission, to rescue Diana and Bubbles from Homer and Renato's grasp. First, they went to where Ricky Boy, their slain son, was buried along with Cardo's twin brother, Ador. Meanwhile, Lola Flora decides to send Margie's relatives on the province.
Lily was going somewhere when Gapuz's group ambushed Lily, killing the driver. As when Lily was about to be executed by Pantig, Vendetta arrives, and caused a shootout, and Cardo kills both Pantig and Gapuz and saved Lily. When heard the news, Lucas was furious about Brandon's latest fiasco. The son explained, which the father snapped and smacked his own son. They returned to Lando's house. Lily was shocked when she saw Oscar among Vendetta.
Vendetta smelled something fishy about Lily's identity, which the woman denied. Meanwhile, in Hipolito's hideout, Bubbles mysteriously puked, and suspected that she may be pregnant. Hipolito, still adamant of using the 2 women as bait, constantly bickers with Homer on Bubble's fate. Homer then bought a pregnancy test for Bubbles and found out that she's pregnant with his child.
Lily planned to make Vendetta and Cabrera to clash, so that she return to her ways. She excused herself then went to a store to call Hipolito that Vendetta was on her position, in exchange of Lucas forgiving her. Lucas sent Renato, Brandon, some of their men and policemen to eliminate Vendetta once and for all. But with help of Lando, and despite Lily protesting, they successfully evaded the police via a dump truck. They hid on Lily's house, unknowingly and ironically that Lily was the reason of the raid. They went on to Lily's hideout and went on resting. Lily called Hipolito to complain that she's almost killed, and promised a deal with him. She then gave Vendetta weapons and supplies for their mission.
Brandon, frustrated with the countless failures, went on with his men, this time towards Lola Flora's family. He abducted the kids that Cardo cared for. Brandon thought that if the elders never talk, maybe the kids will tell him where Cardo is. Unknowingly, Billy was tipped by the men inside CIDG about the incident, and tailed the vans. Brandon called Lola Flora to inform her that he has the kids, and threatens them that he will execute one kid every 15 minutes if they won't reveal where Vendetta is. But Billy and the others' covers were blown and a clash ensues. The trio rescued the kids, and the police arrive on the scene, but Brandon managed to escape. Lucas wanted to cover up this failure of his son once again.
Lily, earning the trust of Vendetta, went on as giving them clothes, her collection of luxury vehicles, then going with them for her contacts with weapons. She told Vendetta that Brandon was frequenting a bar and attained VIP status there, and sets them there. Hipolito is now using Lily to ensure Cabrera's downfall. As Vendetta arrives on the bar, Lily gives the group a VIP treatment, and left the group to wait for Brandon. Just the nick of time, Brandon arrived at the bar, frustrated. Cardo disguised himself as a waiter and initially throws a glass of whiskey to him, which shocked Brandon, and got his hands up in time. Cardo then asked Brandon where Diana and Bubbles were being held, to which Brandon said that the two are in Hipolito's hideout. But when they arrive on the car, he resisted and tried to escape. A clash then ensued between Vendetta and Brandon's men, but eventually he got cornered by Vendetta and was killed before he could fight back, therefore avenging Adonis' and Margie's death. When Lucas knew of this, he ordered his private army to massacre the De Leon Family, as reprisal for his son's death. The group then went to Lola Flora's house, but Billy and the others secure their escape, but Wally got wounded and Makmak sacrificed himself to protect Lola Flora from being shot. Cardo then contacted Lola Flora using Lily's phone upon hearing the news of what happened, and told them to meet up at Lily's ancestral home, along with the Arevalo family. The De Leon and Arevalo families reunited.
Lucas decided to bait Vendetta with Diana and Bubbles, despite Homer trying to save the latter due to her pregnancy. He secured Makmak's corpse, while preparing for his son's funeral. But Cardo used himself as diversion, letting Alyana, Jerome and Rigor in. But the men Cabrera put there chased him and a gunfight starts. The rest of Vendetta then came and finished them and left the scene, taking Makmak's casket to the house.
Renato then contacted Lily, to meet up with them, but Lily wanted to double-cross the former, while Renato has no use for Lily. Lily then showed Vendetta where Renato's hideout is. A firefight then ensues between Vendetta and Kamandag. Bubbles was rescued by Jerome while Diana was rescued by Rigor, and Cardo serves vengeance for Diana's son, Bernardo, Romulo and Ricky Boy by shooting Homer's knees and his head, respectively. Then after that, they plan to disrupt Brandon's funeral, and finish Lucas once and for all. Lily called Renato that Vendetta will attack on Brandon's funeral. Lucas and all his Cabinets were on the funeral, but the people shouted justice more on Makmak's death than Brandon's. Lily was absent on the cemetery, playing safe from both sides. As Lucas and his convoy leaves, Vendetta intercepts them. A firefight then ensues. Some members of Vendetta got wounded, Anton saved Diana from being shot by Renato and was shot down instead, but Lucas was killed by Cardo and Renato was wounded, despite countless men arrived and ambushed the group and assist Lucas and Renato, Vendetta retreated afterwards. The news about Lucas' death was received with overjoy, with rallies supporting Vendetta was organized.
As they mourn Anton's (Mark Lapid) death, Oscar suggested that they surrender, but others rebuffed his offer. So Oscar was forced to betray them. A battalion of policemen arrived to arrest them. There, they learn that Oscar betrayed them although they understand that he will do anything to release them especially Cardo after he saved him from Lucas's action. Lola Flora pleaded to Cardo to surrender. Vendetta obeyed the grandmother. They were led to the cell to take post-arrest procedures. As Oscar returns to his rightful seat, he ponders and regrets that Lucas besmirched the President's title for his own selfish desires. Then, he was sworn once again. Afterwards, he told the media of everything what had happened to him when Lucas ordered his assassination and that Vendetta are not criminals as they had saved him from Lucas' men. Meanwhile, another storm is brewing. Renato, survived the fight, helped by Lily on his recuperation. He desires to exude chaos once again. But Lily has other plans, as she used Vendetta to ensure Lucas' fall, she will use him on her personal use.
Vendetta was put into court to read their punishment regarding rebellion cases the government filed against them, which they plead guilty. Purges and arrests against Cabrera's allies begins after Oscar assumes the Presidency, starting from VP Hernandez and the Executive Secretary Damien. They confesses everybody who was aligned with Lucas Cabrera on the interrogation, arresting those named 'Midnight Cabinets', Cabinet members who were aligned with Lucas and were accused of corruption. Makmak was cremated, and they return to their home, damaged by the incident.
Lily made her move, this time talking to both Cardo and Oscar. Then Oscar visits the cell to tell Vendetta that he filed pardon resolutions on them. Then, news about Vendetta's pardon were met with overzealous celebrations. Oscar also planned a party for Vendetta on the Palace, and Hipolito overheard it. He sarcastically congratulated Lily for doing a good job of fooling both Hidalgo and Vendetta. Lily demanded payment on her behalf, which Renato explained that he will pay later.
Meanwhile, a task force was created to pursue other members of Lucas Cabrera's remnant circle. His police chief recommended Major Basco to lead the op. As the Lola Flora and Vendetta leaves, they met Konsehala Gina and others, and the latter sarcastically remarked, which Lola Flora wished them well and leave alongside others. Back at the house, they plan to further spread malicious remarks against both Lola Flora and Vendetta and destroy their reputation, so that Oscar will acknowledge her and rockets her way to the Senate.
Season 7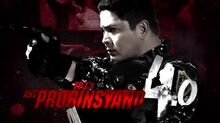 The restoration of Oscar's Presidency from the downfall of Cabrera's mighty hand. Cardo and the Vendetta finally returns to the police and others lately given a work for serving the country. This now tackles another kind of various crime cases involving corruption in the country, following the emerging of the Western syndicates.
Lily Ann Cortez uses Hipolito and Hidalgo for masking up her secret works in syndicates.
Major Victor Basco appeared as one of the most active knocker police agent to combat crimes.
Diana Olegario continuously spits sarcastic words to Lily, doubted that Lily already has a plan to kill her known friends.
Lazaro Enriquez reveals himself as one of the Pulang Araw's traitors under the name Uwak (Crow in English)
Alias Bungo (Skull in English) troubles the country by robbery and avenging his late twin brother, David Madarang, killed from Ador's various operation. His true name is Dante Madarang.
Major Alexandra Romero appeared as a sexiest police encountered; one of the girls who likes Cardo
Bubbles became pregnant
Jerome finally confessed his true feelings to Bubbles. And the one being suited, accepted the confession leading them to become in-relationship.
Barangay Captain Bart allies with the corruptive Councilor Gina Magtanggol, leading to Cardo's family a major problem where she could evict from the region out of her sight for the sake of her secret illegal operations.
Domengsu appeared as the next asset of Cardo's police operations.
Cardo's family decides to open their large eatery named Flora's Garden.
Barangay Captain Bart planned to let his ally put laxative on the food from Flora's Garden, which is to be blamed like Cardo's family is threatening their town.
Elizabeth doubts Lily too; also getting jealous from tagging Oscar and Lily.
Bolit, who was an ally of Bungo, failed from their illegal drug operation in Barangay Sapang Bato, because of Domengsu's infiltration.
Chikoy's death has confirmed; stabbed by Bungo.
Basco's men died; replaced with bad-vibe policemen.
Hipolito encounters three unknown rich men namely; Jacob, Migz and Lance, who ended up allies for taking down what he wants.
Domengsu infiltrates Bungo's house with the culprit and his cohorts. He overheard about Bungo's intentions and their hideout. Domengsu was almost identified as the messenger of Cardo and got to inform back to Cardo's.
Cardo supposedly dead by raiding Bungo's hideout; but got survived from five bullet shots and three knife stabs.
Bungo starts going crazy after Cardo's survival has reported. He started robbing and murdering civilians.
Lily becomes one of the presidential advisers of Oscar.
Major General dela Cruz discussed a new mission; serial killing happening in the country.
Jane Sebastian appeared as the victim of the serial killer.
Jacob's brother, Ronald, died from the serial killer, suspecting Jane as the culprit.
Jane's revelation of having multiple personality disorder. She got four of them; one who is normal, Lovely who is childish, Kuya who is aggressive and Maureen who is lustful.
Jane was forced by Cardo to exclusively live into his house for a temporal safety while the serial killer remains unscathed.
Task Force Agila squeezed out information about Jane and then ran to Cardo's house until they find she was escaping. Jane cornered and revealed her changing identity as Amir shoots her from attempting killing Cardo. They failed in helping her disorder.
Juan as a new character appeared for the foreign international syndicate.
Amir and Cardo ended their misunderstandings from Basco wanting them to stop over with it.
Three new policewomen replaced from the downfall of the two policewomen and the resignation of the other two.
Bungo negotiates with Lazaro but lately kicked out from his indiscipline.
Alex Romero died from Bungo's hands.
A final battle with Bungo, dueled with Cardo by his hometown at Sitio Kasagaran, and later killed himself with his attached bomb along with Task Force Agila. The police are unscathed from the explosion.
Police officer Samantha Salazar, one who replaced the policewomen, died from the shot of Bungo.
Cardo's wife, Alyana, forced to run for the election of their Barangay, only to lose the strap of the corruptive Barangay Captain and the Councilor. She decided to run and filed her candidacy.
Chloe, Jacob's girlfriend, got captured by the Task Force Agila as they raided Jacob's negotiation with the foreigners.
Chloe got survived from the skirmish clout of Renato's men in a sniping target. She is ready to reveal being the witness from joining Renato and Jacob's compound.
Lily's new ally named Meilin, she was from China. She was there for Lily's protection.
During the raid of the Task Forces, Lance, Mr. Miller and Mr. Jamir were shot and dead leaving Renato, Juan and Jacob escaped and survived. Meanwhile, Juan void of everything he has.
Oscar finally proposes to Lily surprisingly.
Juan rented the lot near Cardo's house to observe as he pretends on being a stranger.
Alyana won the election and elected as the new Barangay Captain of Brgy. Pag-asa.
Chloe died from the ambush of Renato.
Ex-Barangay Captain Bart urged to let his men shot Alyana dead along with Cardo. But, the men succeeded their task ass Alyana and Bubbles were the victims. Alyana at the left shoulder and Bubbles on her pregnant tummy.
Bubbles' baby that she carried was announced dead.
The two corruptive Barangay politicians were all successfully arrested.
Domengsu survived from the raid with the transaction of syndicates and meanwhile he was assigned by Cardo to take care of Alyana instead.
A new resident resides by the Barangay of Cardo. A lady renter Krista, who will have some connections with the mysterious businessman Stanley.
Lazaro making out survive from the arms of Lily, who betrayed him.
Cedric, who was Lazaro's ally, was now part of Lily's protectors.
Lily and Renato reunited their forces back from their betrayal for a long time.
Oscar and Lily are now getting married. However, he was shot by Lazaro in disguise after leaving the church from the wedding. Meanwhile, Krista's husband, Stanley, was revealed as the boss of a particular crime happening in the country.
Lazaro succeeds in raping Lily using his force and probably becoming pregnant at some point.
Lazaro died after telling the polices that Lily has something fishy about her.
Diana, Delfin and the Task Forces are now investigating Lily from what Lazaro's last words uttered before his final breath.
Stanley revealed as the leader of the loan-shark syndicate kidnapping all young people to be carried by the white van.
Meanwhile, Judge Arturo Padua returns on the life of Cardo as he and his family resides by their Barangay. It seems that the minions of Konsehala and Kap. Bart returned and became Arturo's recruited new minions.
Renato and Jacob's plot now is to make President Oscar accidentally took the ecstasy drug in order to have plans with Lily and control within her.
Community content is available under
CC-BY-SA
unless otherwise noted.