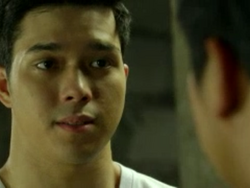 Andrew Abella is the Side anti protagonist since Ang Probinsyano, He cares about collecting Jonas Paulino after He retreats Be cuz He needs to takes down Ricardo Dalisay.
Real Name: Andrew Abella
Aliases: Drew
Andrew
Origins: Ang Probinsyano
Birthday: May 4
Age: 26 Years old
Gender: Male
Hair Color: Black
Eyes Color: Black
Skin Color: Caucasian
Martial Fates: Unknown
Status: Physically Deceased+
Deaths Causes: Presumed killed by Jonas later He will be back in Dreams
Portrayed by: Elmo Magalona
Debut: April 27, 2016; Book 1 (season 1)
Role Ends: May 2016: Book 1 (season 1)
Alignment Chart: Neutral
Synopsis
Edit
He was presumed killed by Jonas in April 11 2016 but His lifeless body wasn't been killed of as He was seen in the Dreams where He meets Cardo.
Community content is available under
CC-BY-SA
unless otherwise noted.